New York, John P. Jacob, Hype World HQ, 1983-1984. (New York: Riding Beggar Press / PostHype). Large format 23,5 x 30,5 cm. 35 original photographs, 1 negative and 1 copy mounted on papers, 1 brochure with the participants of the exhibitions (8 pages with 3 illustrations), 2 sheets with information. Original cloth portfolio. The portfolio is complete and in fine condition.

An assembling of original photographs by thirty seven artists, from fourteen countries. Portfolio signed by John P. Jacob " JPJ / Hype 84 ". Most of the original photographs are signed by the artists. It's a very rare artists book and only in the collection of some museums. Museum of Modern Art in New York, Joan Flasch Artists' Book Collection at the John M. Flaxman Library in Chicago, the University of California and the Getty Research Institute.

ARTIKEL-NR. R0022046A Preis 1.100,00 € inkl. MwSt, inkl. Versand. Unser Liefergebiet ist Deutschland. Lieferzeit 3-5 Tage. Zahlungsarten: PayPal / Überweisung.

Irma Pérez photograph. Size 14 x 8,9 cm. Verso with signature-stamp San Diego California and address-stamp.
Irma and Victor Perez (Nada Post, US, Ca, San Diego) are known for their mail art projects. "Big Brother is Watching" and "Mother of Exiles" both from 1984.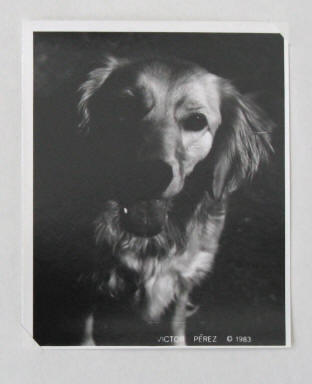 Victor Pérez photograph. Size 12,4 x 10 cm. With name and copyright sign on the front. Verso numbered by hand "20/75" and with address-stamp in San Diego, California.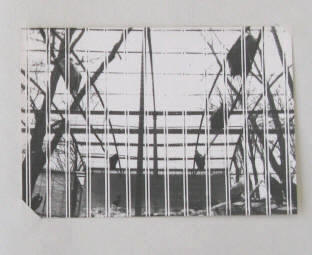 Ruggero Maggi photograph. Size 8,8 x 12,8 cm.
Ruggero Maggi, born 1950, is an Italian artist who studied graphic design and architecture in Milano. He got involved with the mail art network, visual poetry and chaotic art.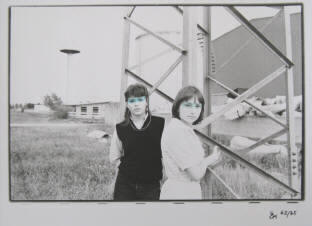 Giancarlo Martina photograph with green marked over the girl's eyes. Size 17,7 x 24 cm. Numbered "62/75" and signed (monogrammed) on the front of the Agfa-paper.
Giancarlo Martina is an Italian Fluxus artist and musician living and working in Udine, Italy. He is also engaged in several international mail art projects.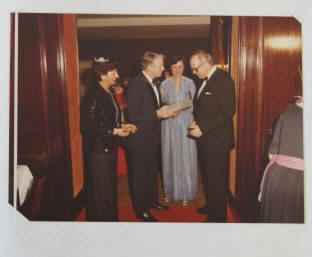 Jürgen O. Olbrich color-photograph. Size 12,6 x 17,9 cm printed on Kodak-paper.
Jürgen O. Olbrich is a German artist, editor and curator.
Jürgen O. Olbrich (* 25. November 1955 in Bielefeld) ist ein deutscher bildender Künstler, Herausgeber und Kurator. Der Performancekünstler ist ein Vertreter der konkreten wie auch visuellen Poesie und ein Künstler der Copy- und Mail Art. 1987 nahm er an der documenta 8 in Kassel teil und wurde international bekannt. Sein Beitrag City souvenir: Expanded Performance, wurde mit Künstlerfreunden, wie u. a. Wolfgang Hainke, Arno Arts vom 12. Juni bis 5. Juli 1987 im Rahmen der Performance-Abteilung der documenta 8 in Kassel aufgeführt. Die Performance Utensielien wurden in der Neuen Galerie ausgestellt.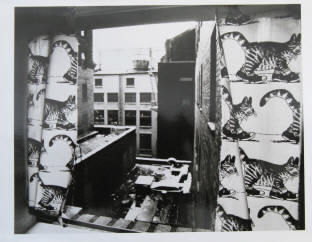 Des McLean photograph. Size 20,3 x 25,9 cm. Verso hand signed by the artist.
Des McLean is a member of the Mail-Art network. He's known for "Art from the Future", Glassboro State College, USA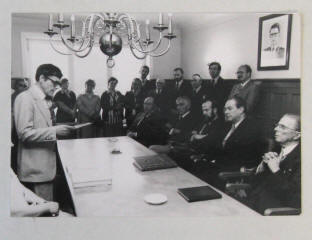 Sjoerd Paridaen photograph. Size 10,3 x 14,6 cm. Verso with two stamps: "Jaargang de Krant No. 5" and "Copyright by foto L. Oosterlinck, 9232 Gijzenzele".
Sjoerd Paridaen, born 1951 in Oostburg (Nederland), 1951. He's an art teacher at the School of Arts KASK-Koninklijk Conservatorium and engaged in some international mail art projects.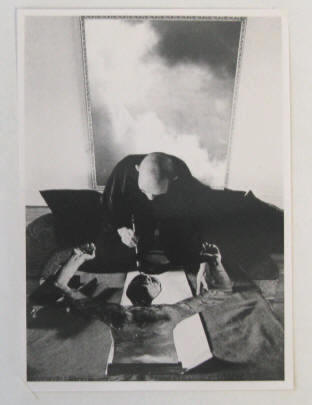 Peter Lyssiotis photograph. Size 17,7 x 12,7 cm.
Peter Lyssiotis (born 1949, Cyprus) is a Cypriot born-Australian writer, photographer and photomonteur. In 2004 he received a commendation from the Anne Elder Award committee for his work. His small press books include Industrial Woman (with Vivienne Mehes and Jas H. Duke), Journey of a Wise Electron and Other Stories and Three Cheers for Civilization.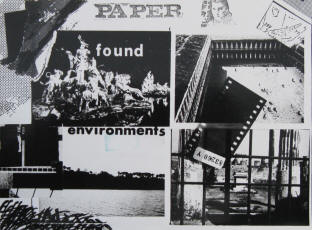 Serse Luigetti photograph. Size 17,7 x 24 cm. Verso stamped by the artist with his address in Perugia.
Serse Luigetti, born August 3, 1949 in Castiglion del Lago in Italy is working in Perugia and is well known for his Visual-Poetry and his Mail Art proejcts.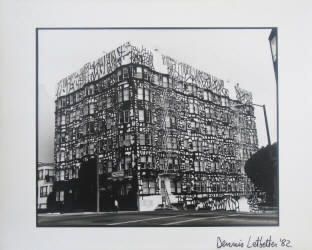 Dennis Letbetter photograph. Size 16 x 19,3 cm on 20,3 x 25,3 photo-paper. Signed by hand and dated '82.
Dennis Letbetter, born 5 July 1954 in Flint, Michigan is living in San Francisco as a professional US photographer who runs a publication studio. He also works together with Jack W. Stauffacher, The Greenwood Press
San Francisco, CA.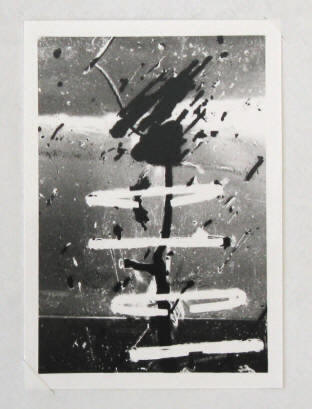 GX Jupitter-Larsen photograph. Size 12,7 x 8,9 cm. Verso stamped by the artist.
GX Jupitter Larsen, born March 2, 1959, is an artist, based in Hollywood, California, who's been active in a number of underground art scenes since the late 1970s. Jupitter-Larsen has been involved in punk rock, mail art, cassette culture, the noise music scene, and zine culture. During the 1990s he was the sound designer for the performances of Mark Pauline's Survival Research Laboratories. His best known work is as the founder of the noise act The Haters, who have performed all over the world, and appear on over 300 CD and record releases.

Frank Oliver / Eric Finlay copy of a photograph by Frank Oliver
Eric Finlay, England, mail art artist, died 1996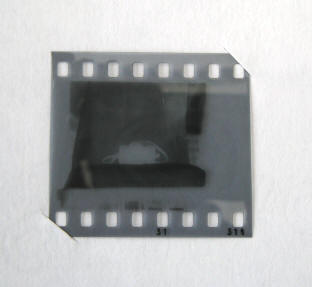 Vittore Baroni negativ film.
Vittore Baroni born 1956 in Forte dei Marmi, Italy, is an Italian mailartist, music critic and explorer of countercultures. Since the mid-1970s he has been one of the most active and respected promoters and documenters of mail art.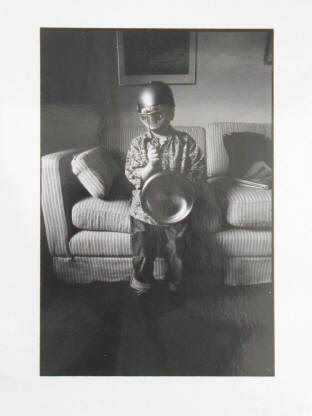 Gert Wibe, född 20 juni 1952 i Östersund, är en svensk konstnär och scenograf.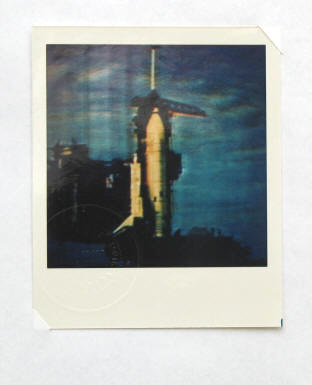 Emmett Walsh Polacopy by Polaroid. Size 10,7 x 8,8 cm. Verso stamped "Postindustrialism" and also blind stamped "Gulfport Florida". Verso hand-signed by the artist, dated 15 III 83 and numbered "20/75".
Emmett Walsh is an US-artist in Cleveland. He is known for his mail art and postindustrial video still.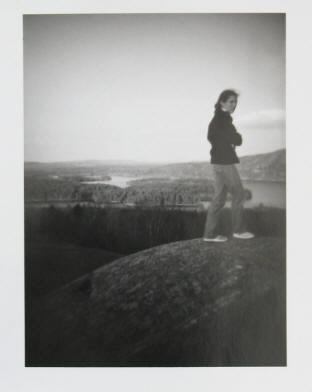 George B Benington photograph. Size 19,1 x 14,1 cm on 25,2 x 20,2 cm photo paper.
George B Benington is the US-author of "the art of the book" and co-author of Voiceprints (poems)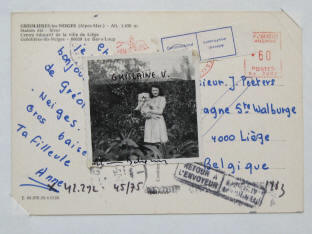 Guy Bleus photograph. Size 5,8 x 6 cm. Photograph with handwritten remark GUISLAINE V., hand-signed by the artist in the bottom of the photography and numbered "45/75". Photograph mounted on a used picture postcard.
The mail art artist Guy Bleus (born October 23, 1950 in Hasselt, Belgium) is associated with the mail art movement and performance art.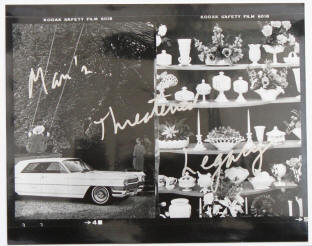 Christopher J. Burnett photograph. Size 20,3 x 25,3 cm on Kodak-paper. On the front titled: "Man's Threatened Legacy" and verso fully signed by the artist with address stamp Albuquerque
Christopher J. Burnett (also Chris Burnett) is an US-American photographer and Asociate Professor of New Media at the University of Toledo.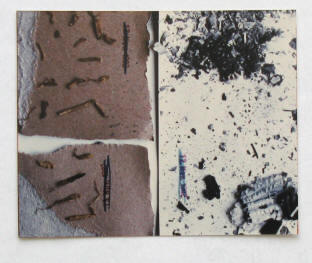 Ioan Bunus, color photograph. Size 8 x 10 cm. Verso with address label: Ioan Bunus bei Widmaier, Straße des Roten Kreuzes 64, Karlsruhe. With handwritten remark "ASYL ART STUDIO".
Ioan Bunus, born in Romania in 1952, lives and works as a conceptual artist in Karlsruhe and Meaux (France).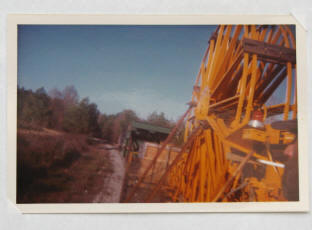 Russell Butler, color photograph. Size 8,8 x 13,3 cm on Kodak-paper from December 1978.
Russell Butler of Gurdon is a mail art artist, inspired by stamps.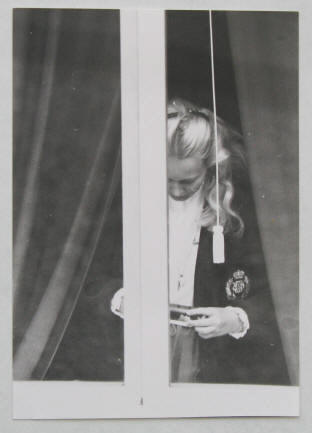 Charles François, photograph. Size 14,8 x 10,4 cm. Verso with handwritten remark "July 02, 1981".
Charles François is a Mail Art artist in Liege, Belgium. He is a member of the international mail art network and also worked together with Guy Bleus.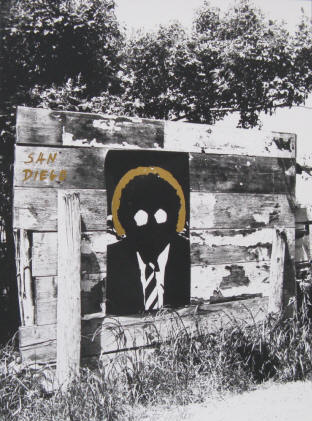 H.R. Fricker, overpainted photograph. Size 23,9 x 17,7 cm. Front with handwritten remark "San Diego" and numbered "20/75" and signed by the artist. Verso stamped "H.R. Fricker für künstlerische Umtriebe auf dem Land" and with address "Trogen Switzerland".
H.R. Fricker (* 1947 born Hans Ruedi Fricker in Zürich, Switzerland) is a Swiss conceptual artist.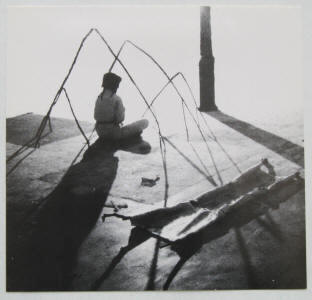 Henryk Gajewski, photograph. Size 14,3 x 14,8 cm. Verso with address stamp with P O Box in Amsterdam, Netherlands.
Henryk Gajewski, born in Poland, is living and working as an artist and filmmaker in Amsterdam. He is one of the founders of the International Union of Mail-Artists IUOMA network.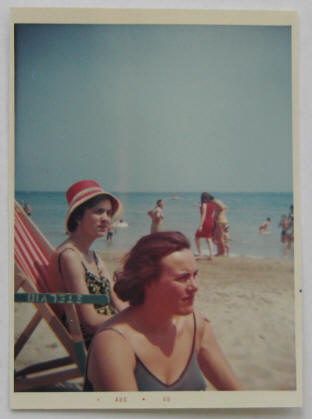 Ubaldo Giacomucci, color photograph on Kodak-paper. Size 11,4 x 8,3 cm. Photograph dated in the bottom "August 69".
Ubaldo Giacomucci - the Italian artist showed his artwork in 2003 in the exhibition STAMP! Artists' Postage Stamps and Books from the Collections of MCA & Bad Press - Museum of Contemporary Art Chicago. He is known for his Mail Music Project and his records polypoetry and POETICKS.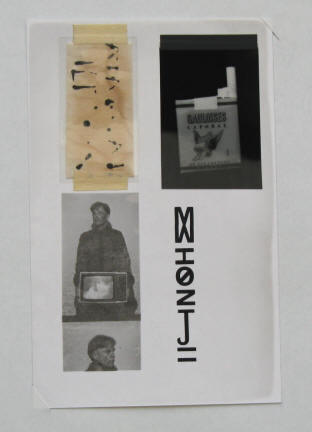 Pete Horobin. Photograph with two mounted applications by the artist. One negativ of Gauloises cigarettes and a painted paper behind transparency film. Verso stamped " DATA Pete Horobin, Union Street, Dundee".
Pete Horobin is a Dundee-based artist in Scotland, who changed his name after every decade. From 1980-1990 he took the name Peter Horobin. Other names are "Marshall Anderson2 and "Peter Haining". His work can be compared with Joseph Beuys.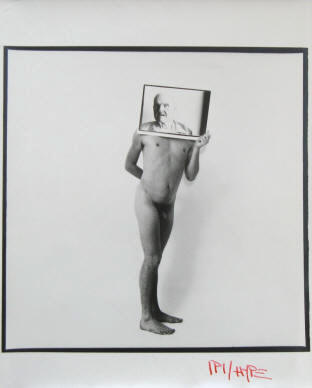 J. P. Jacob photograph, size 25,2 x 20,2 cm, signed (monogrammed) by the artist "JPJ/HYPE". John P. Jacob (born 1957) is an American writer and curator. He grew up in Italy and Venezuela, graduated from the Collegiate School (1975) in New York City, and studied at the University of Chicago before earning a BA in Human Ecology from the College of the Atlantic (1981) and an MA in Art History from Indiana University (1994).

John Jacob began his career as an artist, working with reproductive media including photography, Xerography, rubber-stamps, mail-art, and artist's books. During the 1980s, he taught classes on color Xerox and the rubber stamp as a print-making medium, at Pratt Manhattan, with mail-artist Ed Plunkett, and founded the Riding Beggar Press ("If wishes were horses...") to promote his and other artists' work.[1] His first sale, of a sheet of artists' stamps for $75, was from an exhibition curated by Buster Cleveland for the 13th Hour Gallery[2] (NY, 1984). Jacob's efforts during this period include the irregular mail-art magazine PostHype (1981–85), and the International Portfolio of Artists' Photography (1983–86), an assembling book project conceived to integrate mail-art, book-art, and photography. Increasingly interested in issues related to censorship, and working with artists in the Soviet Bloc countries of Eastern Europe,[3][4][5] the final issue of PostHype (4.1) documented a mail- and phone-art project entitled East/West: Mail Art & Censorship.[6] In 1987, in a self-proclaimed withdrawal from mail-art, Jacob published The Coffee Table Book of Mail Art: The Intimate Letters of J.P. Jacob.[7] With an advertisement declaring "Each copy contains a valuable original artwork by a famous mailartist!!" Jacob gave away original works of mail-art to recipients of the publication, until his collection was exhausted. Jacob continued exhibiting his photography through the 1980s, presenting his last one-person exhibition, entitled I'm Trying to See, at the Liget Galeria, Budapest, in 1988.[8] He occasionally exhibited under the pseudonym Janos Jaczkó after that.

Since the mid-1980s, Jacob has worked with artists in Eastern Europe and the former USSR, guest-curating exhibitions for institutions in the United States and Europe, including the List Visual Arts Center at MIT, the Allen Memorial Art Museum at Oberlin College, and the Staatliche Galerie Moritzburg, Germany. From 1986-89, he was supported by grants from the Soros Foundations, Hungary and USSR. Émigré writer Jerzy Kosinski contributed an introductory statement to the exhibition Out of Eastern Europe: Private Photography (1987), describing the work presented as "the penultimate art of spiritual confrontation." In a review for the New York Times, photography critic Andy Grundberg observed with surprise its relatedness to "Conceptual, Fluxus, Earth, Performance and Correspondence art forms,"[10] making it different more in circumstance than in kind from Western art. Jacob's exhibition The Missing Picture: Alternative Contemporary Photography in the Soviet Union (1990) was the first one-person exhibition of Ukrainian photographer Boris Mikhailov in the US, accompanied by the works of four young Soviet photographers inspired by him. Recollecting a Culture: Photography and the Evolution of a Socialist Aesthetic in East Germany (1999), commemorating the 10th anniversary of the fall of the Berlin Wall, presented the archive of the FotoKino Verlag, publisher of the GDR's professional photography periodical, Fotografie. With works dating from 1929–89, photography critic Vicki Goldberg observed of the exhibition that "In the socialist paradise that failed, art was supposed to join the battle to create a new classless utopia on its unstable antecedent, capitalism. Mr. Jacob has done a real service by reprinting some articles from Fotografie that give an idea of what was required of photographers."[11] The American photographer and theorist Diane Neumaier, in her history of Soviet non-conformist photography, has credited Jacob's work as foundational to that of later historians such as herself.[12] His essay "After Roskolnikov: Russian Photography Today," edited by Neumaier for the College Art Association's Art Journal, critically examines the impact of Western attention, including his own, on the art of post-Perestroika Russia. (from the English Wikipedia)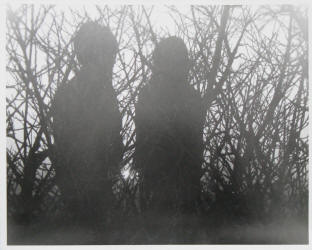 Lon Spiegelman photograph. Size 20,4 x 25,4 cm. Verso stamped by the artist "Aqui Spiegelman LHS3", monogrammed "LS" by hand and dated "4/1/83".
Lon Spiegelman (1941-2002) was an American mail artist and networker who initiated the concept called "Money & mail-art don't mix". He also coined the term "N-tity" together with Carlo Pittore. Spiegelman was a guest editor of the magazine "Umbrella" edited by Judith A. Hoffberg in the 1980s.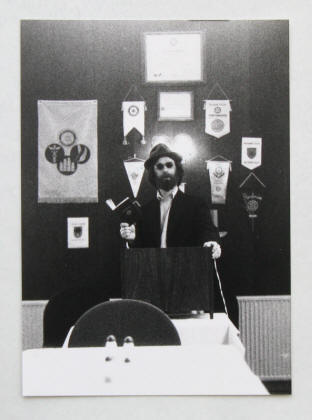 Mailartist Carsten Schmidt-Olsen photograph. Size 17,7 x 12,6 cm. Verso stamped by the artist "Carsten Schmidt-Olsen, Skibsby Artcenter 9800 Hjørring, Denmark".
Carsten Schmidt-Olsen was born in Denmark in 1952. He grew up in the town of Hjørring and is an active international mail art artist.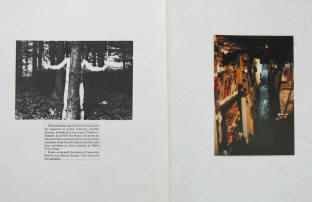 Carlo Pittore & Mark Melnicove copy-art and color-photograph. Title of the folder: "Carlo Pittore / Mark Melnicove". Copy-art: size 25,5 x 20,5 cm. Photograph: size 13,1 x 8,8 cm and verso signed by the artist with "Carlo Pittore's Studio, New York City, Spring 1983 (Barkan? Ruskin photo), Part 1, Part II goes next to Part I".
Carlo Pittore, * May 14, 1943 in Queens, New York; † July 17, 2005 in Bowdoinham, Maine. Pittore was an American painter known for his advocacy for the role of artists in civic life, his passion for figurative arts, and his seminal contributions to mail art.

Mark Melnicove, US artist, who also worked together with Bern Porter. Mail art, visual poetry and performances.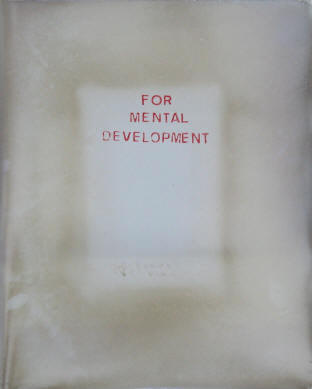 Steve Random, photograph. Size 25,3 x 20,3 cm on photo-paper. Verso numbered 49/75 and address "SR INC. 2-54, 23 Riverside Dr., Greenfield Mass."
Steve Random, born 1954, is an active US mail art artist in Raleigh, NC and a member of the international Union of Mail-Artists.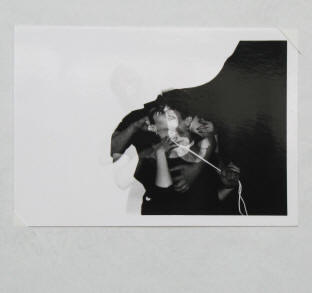 Janice Peshke artist. Photograph for mail-art 1983. Size 8,9 x 12,6 cm. Verso stamped with the address in Vancouver, Canada.
Janice Peshke is a contemporary Canadian artist, who also worked together with GX Jupitter-Larsen for the Posthype issue in 1983, edited by J. P. Jacob.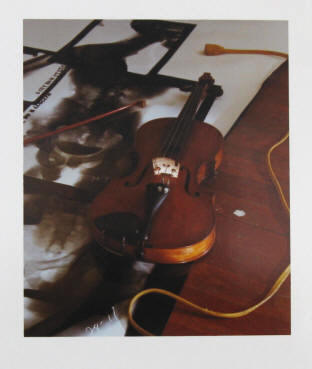 Larry Rippel color-photograph from 1983. Size 11,5 x 9,7 on 25,4 x 20,3 Kodak photo-paper. Monogrammed in the photograph.
Larry Rippel is a professional photographer, living and working in Pittsburgh, PA. He's a member of the International Union of Mail-Artists.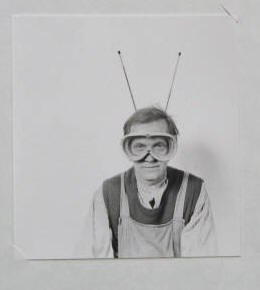 Robert Rehfeldt (* 5. Januar 1931 in Stargard in Pommern; † 28. September 1993 in Berlin) was a German Artist. Photograph size 7,2 x 6,7 cm for mail art project 1983.

1975 bat Robert Rehfeldt Künstler aus aller Welt um die Gestaltung einer Postkarte und machte daraus – anlässlich einer eigenen Ausstellung in der Galeria Teatru Studio in Warschau – die erste Mail Art-Ausstellung der DDR. Er inspirierte und unterstützte die Mail Art-Ausstellungen in der Ost-Berliner Galerie Arkade und in der EP-Galerie von Jürgen Schweinebraden.[1] Rehfeldt organisierte 1986 das Ost-Berliner Treffen des 1. Dezentralen Internationalen Mail Art-Congresses. Er schuf ein umfangreiches graphisches Werk und beschäftigte sich auch mit der Fotografie und dem Super-8-Film. Im Jahr 1991 stellte er neben eigenen Arbeiten auch sein Mail Art-Projekt von 1975 in seiner Retrospektive im Ephraim-Palais in Berlin aus. Am 28. September 1993 starb Robert Rehfeldt nach einer Operation in Berlin. Posthum war er in einigen wichtigen Gruppenausstellungen vertreten. Die Galerie Parterre Berlin richtete ihm 2008 eine Retrospektive ein. (Auszug aus Wikipedia)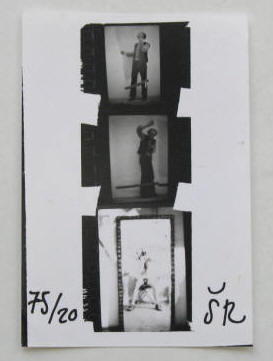 Róbert Šwierkiewicz, Pécs, 1942-05-29, artist. Photograph size 9,5 x 6,5 cm numbered and signed (monogrammed) on the front.
Róbert Šwierkiewicz festő (born in Pécs 1942) is a Hungarian painter and multiple artist.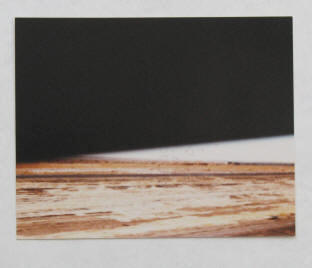 Patrick T. color-photograph. Size 8,8 x 11,1 cm. Verso stamped by the artist "Berkeley Office 1649 Dwight Way, Berkeley, CA 94703, Feb 1982".
Patrick T. is known for his mail art work. Together with Helen Holt he published "Artists Revolution: Mail Artists International 1986 Calendar" in San Francisco, CA 1986.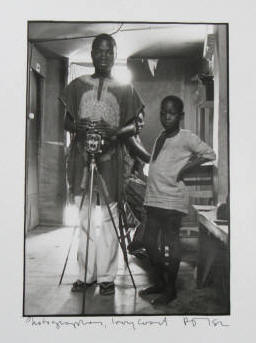 B. J. Tisa photogrphy. Size 17,6 x 12,2 cm on 25,4 x 20,2 photo-paper. Titled: "Photographers, Ivory Coast" and hand signed by the artist.
Benedict Tisa, born 1942, is an US-American visual artist and as mail art artist known for his minitature photographs like stamps.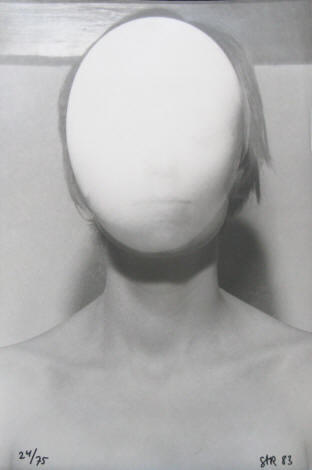 Steen Møller Rasmussen photograph. Size 29,8 x 20 cm. Numbered and signed (monogrammed) and dated on the front. Verso with postal stamp and his address in Brøndby Strand.
Steen Møller Rasmussen (født 20. juni 1953 i Glostrup) er en dansk filmfotograf, instruktør og billedkunstner.
Bestellen können Sie telefonisch, schriftlich oder per E-Mail.